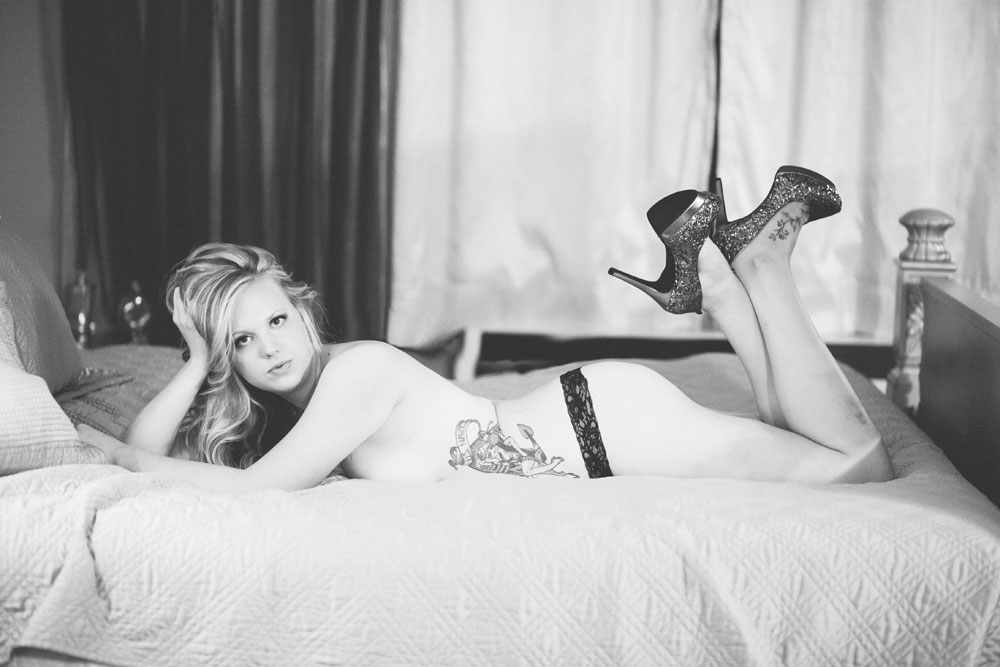 Boudoir, pronounced "boo-dwahr" or "boo-dwa" is an old word, specifically dating back to the Victorian era and it was used to mean a lady's bed chamber, drawing room or suite of rooms. Boudoir's were typically only found in homes of the very rich, powerful, and well known. The movie, "Marie Antoinette," starring Kirsten Dunst as Marie frequently shows her in what would have been considered her boudoir. In this day in age, boudoir has become known to describe a variety of different things including certain types of furniture, clothing, and a genre of photography.
Boudoir photography is not mean to be erotic, or revealing. In fact, just the opposite. Boudoir photography is meant to capture a woman's femininity and to be between herself and her significant other. In many cases, it can be used just for a woman as self confidence boost, to capture her as she is at that very moment because many women do have a time in their lives where they feel they are at their pinnacle of success and beauty. More often, boudoir photography is done as a gift for a significant other prior to a monumental occasion. Be it a surprise gift to her husband on their wedding day, after the wedding while on their honeymoon, Valentine's Day, birthdays, or many other different occasions.
A very nice fact to note, is that the traditional First Wedding Anniversary gift is paper. Of course, we all know that photographs are printed on paper, so an obvious choice for a remarkable and unforgettable First Anniversary gift could be a boudoir session with a few prints, or most commonly; an album filled with your favorite images from your session.
Boudoir photography should be elegant, classy, and tasteful. Your photographer should also work with you to make your images one of a kind and to send the message that you wish to send. Boudoir photography is done in the comfort of your own home, a luxury hotel or bed & breakfast, and on some occasions can be arranged to be done in a secure outdoors location. The Boudoir is here to make the promise that our first priority is to you, and is to create images that you are proud to share. More than that, that you cannot wait to share. Also remember, that boudoir photography does not have to be a one-time thing. We encourage, and welcome our clients back as many times as they would like. Whether it be motivation to lose that extra 5 pounds from baby, celebration that you reached your weight-loss goal, documentation of the changes of your body, etc. We also strongly encourage maternity boudoir sessions, if it isn't something you've considered we are more than happy to help you along this path. On a case-by-case basis, we will also consider tastefully done couple's boudoir. Let us know what your ideas, questions, or concerns are…we are here to make your vision come to life.