This morning on Good Morning America, you would never guess what was covered! Okay, yeah…well the title gives it away I suppose. Yes, BOUDOIR! Boudoir photography has become all the rage in the last 5'ish years. Thanks to an onslaught of celebrities bearing their bodies and sharing their photos in their sexiest lingerie, this trend has made it into the mainstream and I think it's here to stay! I have to say, I love the "new" look of boudoir photography in comparison to the boudoir of the 90's. Personally, I feel there are more women entering this industry and as a result, images are done more tastefully, and really capture the softer side of a woman. Not that a man can't be a fabulous boudoir photographer…but unfortunately there are many in it for the wrong reasons.
One of my all time favorite celebrity boudoir sessions is Jessica Alba's shoot for the April 2005 issue of GQ magazine. It was so well done, and really showed her soft, innocent side. The images were extraordinarily beautiful!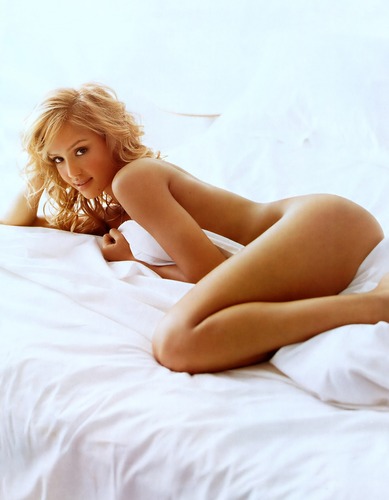 ABC News Tracey Marx Reports:

Valentine's Day is just around the corner and most women are expecting flowers, chocolate and jewels from their loved ones.

But what if you want to give your significant other something a little on the racy side?

Boudoir photography is an art Hollywood beauties have used for centuries to bring their sexy back, sitting for portraits as a celebration of the female form.

Now women not on the big screen or walking the red carpet can still feel like they're hot enough to land on the pages of glossy magazines like Maxim and FHM.

"I saw how popular Maxim magazine is, and FHM and, even, Playboy, and how gorgeous women want to feel," Jennifer Rozenbaum told "Good Morning America."  "I would look at those magazines too and say, 'I want to look like that.  I want to feel like that.'"

Rozenbaum, a former stay-at-home mom, opened her own boudoir photo studio, Jenerations Boudoir,  in New York City.

The average price of  a boudoir photo session at the studio begins at $1,500.

"Seeing how you look is empowering and just celebrating womanhood," Rozenbaum said.  "There is nothing to be ashamed of to want to look beautiful and feel beautiful and to show off your body."

A boudoir photo session is not the kind of photo shoot where you sit down and just have shots taken.  Clients are pampered with hair and makeup and wardrobe choices, just like a real photo shoot to make you feel like a sultry supermodel.

"It's literally so much fun," Lisa Hastings, a 30-year-old client of Rozenbaum's said.  "I'm giving the album to my husband. I think it's just something that is great to do, for him to see me in that kind of light."

The photography is a trend women are embracing.  From New York to Missouri, Wisconsin, Colorado, Texas and Oregon, boudoir is big.

"I would say that maybe about 40 percent of the brides I'm currently working with are now booking boudoir sessions this year," Janelle Brooke, owner of Janelle Brooke Photography in Northport, New York, told "GMA."

"I think it's a trend that is not going to go away," she said.  "It ignites confidence in women.  It celebrates the beauty of women and the romance in the relationship."

Valerie Mazarowski turned to Brooke to photograph her engagement session, her wedding and the day after her wedding nearly two years ago.

The thirty-one-year-old then wanted something intimate, beautiful and sexy to last a lifetime and to represent a different time in her life, so she again turned to Brooke for her boudoir photo session.

"Having that personalized relationship with these brides is really also the driving force," Brooke said of the photos' popularity.  "It is such an intimate shoot that you want to have that closeness, that trust with the person who is taking such intimate photos of you."

The gift of a boudoir photo can be given not just for Valentine's Day but for a wedding, or even a birthday, photographers like Rozenbaum and Brooke say.

And the women in front of the cameras say a boudoir photo session was also a great gift for themselves.

"That was so much fun," Mazarowski said of her shoot with Brooke.  "I enjoyed every second of it."

"At this point in my life I've really found great confidence that I've never had before," she said.  "I kind of want to freeze this moment in my life so that 30 or 40 years down the line I can look back at it and say, 'Oh my God, I was a good looking girl. And my kids can say, "Wow, my mom was really hot!'"
(LINK TO THE ORIGINAL ARTICLE)
Consider doing a Valentine's Day session for the love of your life, this Valentine's Day! We have a special deal for all you ladies to make this work in time for February 14th! Contact us for more details!!